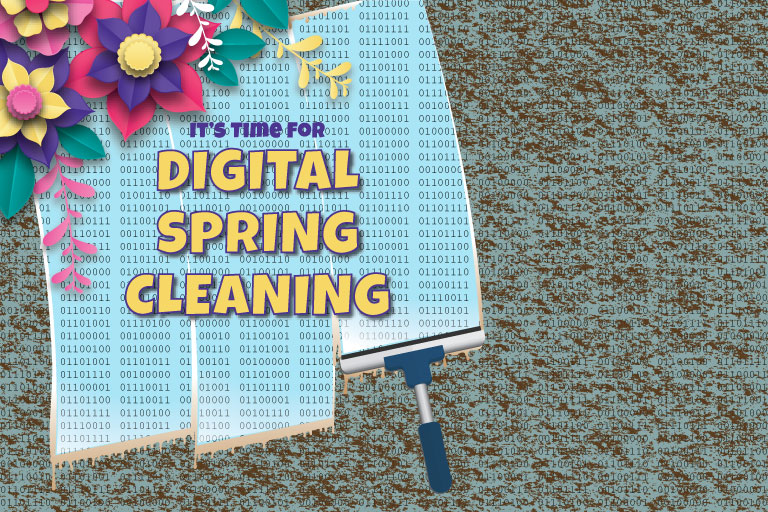 Early May is mid-spring, and many are beginning the tradition of spring cleaning. You know that time of year you deep clean and declutter your home. Spring cleaning is a way to refresh and renew one's living space. This year, we are encouraging you to perform a Digital Spring Cleaning. Digital spring cleaning is the process of organizing, decluttering, and optimizing your digital devices, files, and online presence. It involves cleaning up your computer files, email inbox, social media accounts, and other digital spaces to get rid of unnecessary and outdated data and to improve your digital security and privacy.
Here are a few digital spring cleaning tips.
Online accounts
Much like your homes, your online accounts can collect clutter and occasionally need a few minutes of care. Start by reviewing what accounts you have. Those can include email, social networks, clubs or organizations, shopping websites, and cloud storage accounts you have for both work and home. Think about these things:
Do you need them all?
Is there information in those accounts that isn't needed anymore, such as credit cards saved in your accounts with shops and old documents on cloud storage accounts?
Are there accounts that you don't use anymore and can close, like that old email account you never check?
Are you using the same password across any of these accounts that you could easily make unique and more secure?
Email accounts
Many email providers limit mailbox sizes and you should keep an eye on how many messages are in your inbox. Also, for security reasons, it is always smart to limit what is available in your email account. Consider these questions and actions:
How many emails are in your inbox – are there any you can file into folders or delete?
Is there information in your accounts that you can archive or delete?
When was the last time you cleared out your deleted items or trash folder?
Can you set a rule that will automatically empty your deleted items or trash folder on a regular basis?
Unsubscribe to recurring emails that no longer interest you.
Social media
Review your social media accounts by taking a few minutes to review your security settings, friends and connections as well as posts to make sure you're still comfortable with them.
Is the information on your social networking and job websites – including Facebook, Twitter, Instagram, and LinkedIn – current?
Do your security settings ensure that only the authorized individuals can view what you post?
Do you still use or need all of the social media sites registered to you?
Web-browser settings
Did you know that web browsers can store your passwords and other personal data? Web-browsers can be gateways to your data for bad actors.
Take a few minutes to check your browser settings, clear out old data and ensure your browser's security settings are still keeping you safe.
Make sure that autofill doesn't contain sensitive information and that you don't store your passwords in your browser.
Do you need all of the browsers on your system?
Backup files
Spring cleaning is a good opportunity to make sure you have a complete backup of important files. We recommend a cloud storage backup, but use something you feel comfortable with. Also, it important to make sure you're saving the right files and that you can restore everything from your backup, since a backup that you can't restore from isn't useful at all.
Take out the trash
Do you have old devices in your house or office that should be recycled? If so, check with your local municipality, they may support e-Cycling initiatives and will help you dispose of them properly. Be certain to remove and shred or destroy hard drives and other components that might contain personal sensitive data.
These are just a few digital spring cleaning suggestions that may help you free up space on your devices, improve your digital security, and create a more streamlined and organized digital life. If your digital world needs a deep cleaning, New River Computing can help!