Version History/Version Control
Ever wish you could restore a previous version of a Word document or an Excel spreadsheet? Well if you are an Office 365 subscriber using SharePoint, OneDrive, and OneDrive for Business, you can! Office 2016 automatically saves versions of your files while you're working on them. This feature allows you to see how files have changed between versions or even restore to an older version should the need arise.
In Word, you can view and restore previous versions by clicking File – View and restore previous versions.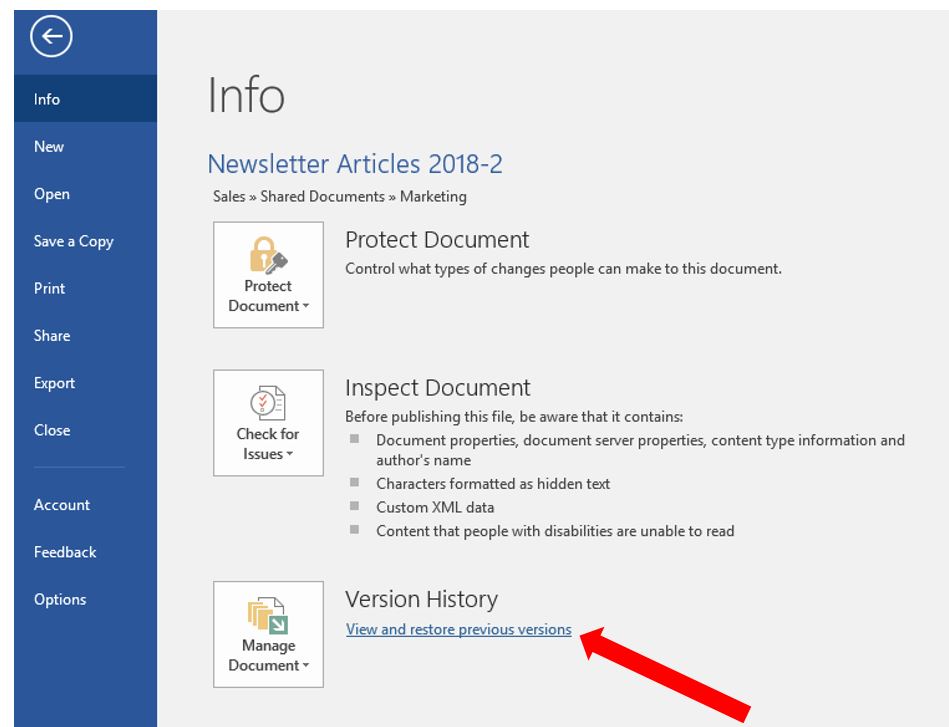 Then the list of previous versions of the document opens.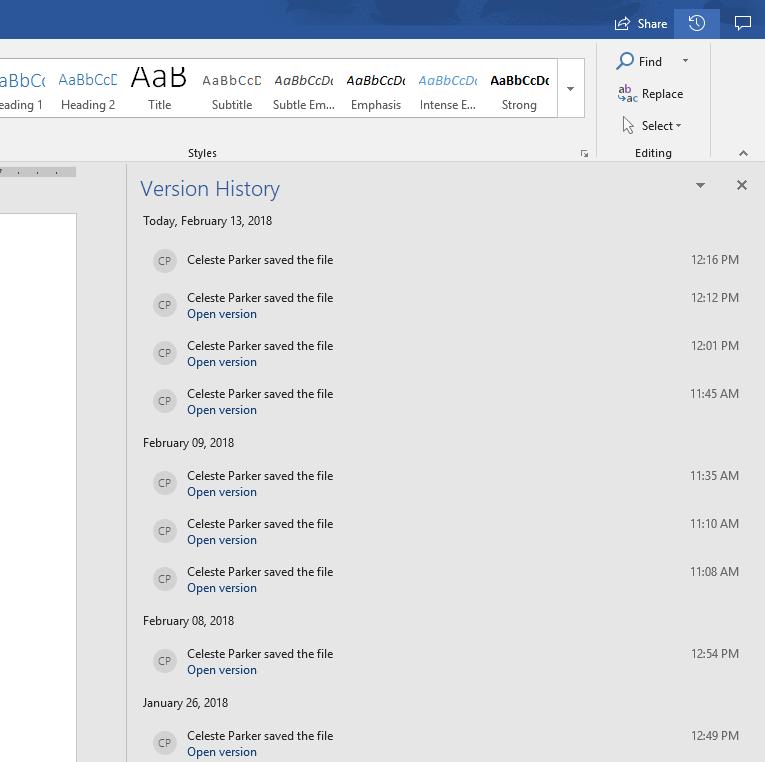 Check out the Microsoft Support article View previous versions of Office files for more details.
---
Updates to Outlook
The December 2017 Office 365 release included an update to Outlook Inbox. The Focused Inbox was released to help filter incoming messages. Microsoft Support states, "Messages you need to act on right away appear in Focused while the rest wait for you in Other. Messages will no longer moved to the Clutter folder."
Check out the Microsoft Support article Focused Inbox for Outlook or the Microsoft video for additional details.
---
Save hard drive space with OneDrive files on demand
OneDrive has just gotten better with the addition of "OneDrive Files On-Demand." This is a great feature that I'm extremely excited about and love using. It allows you to see your entire OneDrive, and access all the files and folders you store there, directly from File Explorer. However, this functionality used to be standard in Windows 8 (then called "Place Holders"), but for whatever reason and without warning, Microsoft took it away from us and in its place implemented a selective folder sync capability which was nowhere even close to comparable.
Now that it's back, this new version, called Files On-Demand, Microsoft claims to have fixed all the issues that apparently plagued Place Holders (though I never experienced them) and it's supposed to work better and faster than ever.
Here's how to get started:
Select the OneDrive icon in the system tray, open the application and click on settings

Enable the option "Save space and download files as you use them."

After enabling the function, OneDrive will require a bit of time to sync your complete cloud-based file listing to your computer. But after its done, you can go to OneDrive in File Explorer to see all the OneDrive folders you've chosen to sync to your computer available offline. Also, there's a new Status column, available in the OneDrive folders, which indicates whether each file or folder is "available when online," "available on this device," or "sync pending."
If you're a OneDrive user (if not, you should be!), there's no good reason not to be using this feature. So, do yourself a favor and start using it now!
---
Spring came early at NRC!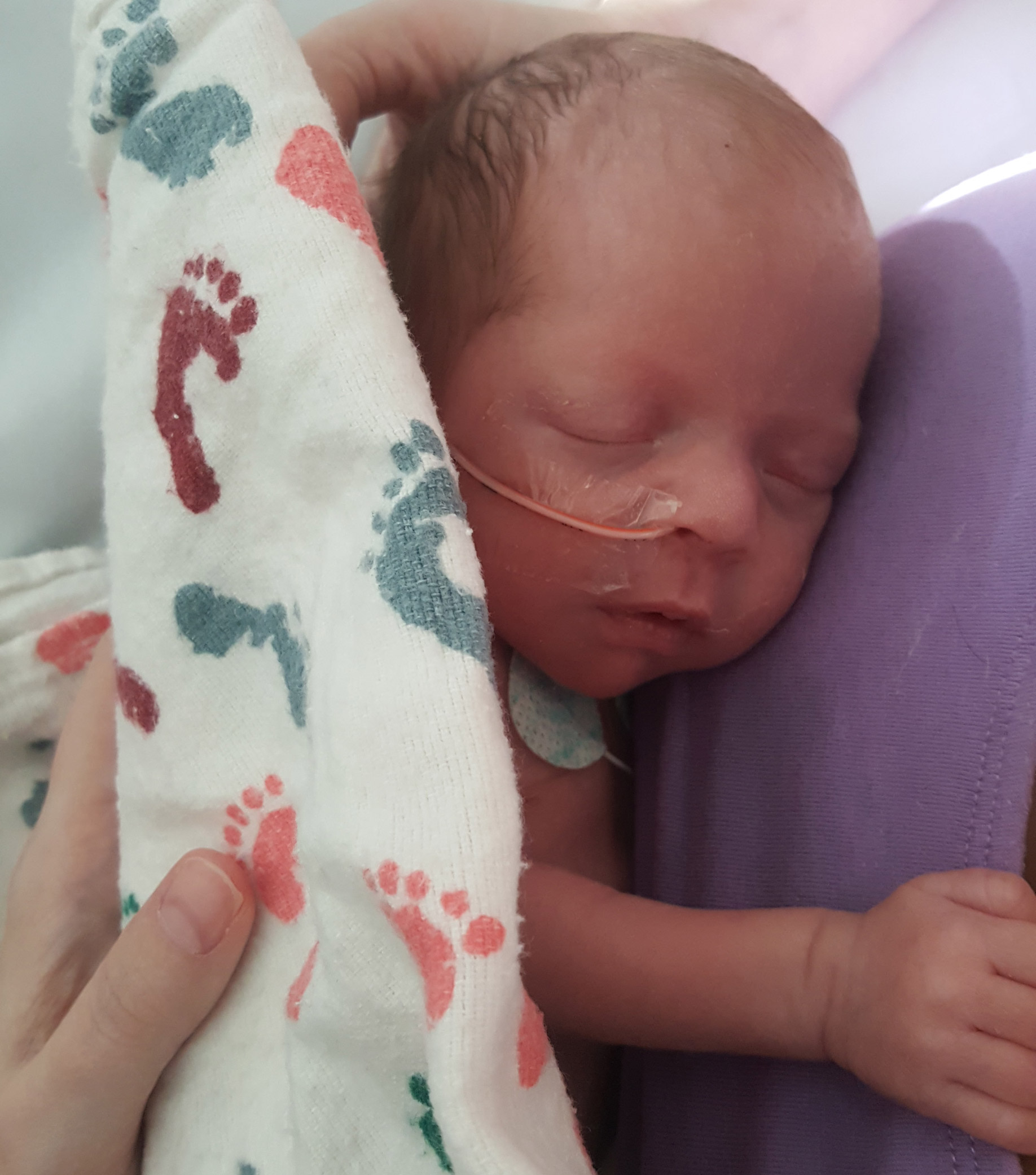 New River Computing would like to welcome Spring Loferski to the NRC family!
Spring was born 10 weeks early on January 15, weighing only 2 pounds 8 ounces. She was so tiny! She now weighs 4 lbs, and Spring and her mother Sonya are both doing well. Spring came early!
Congratulations to Sonya, and Grandma Karen! We'll have to hire Spring as soon as possible, so that we can have three generations of Loferskis working for NRC.
---
NRC Birthdays - January & February
---
Flickr's 14 Years, 14 Staff Picks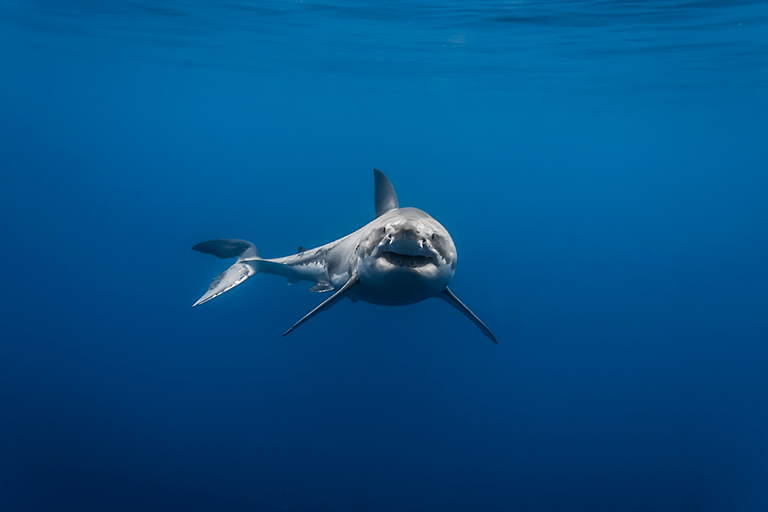 NRC's George Probst recently had one of his photos (seen above) featured in Flickr's 14 Years, 14 Staff Picks gallery. George has been a long-time contributor to Flickr, an online photo-sharing community with over 75 million users, which celebrated it's 14th anniversary this month. The gallery was part of their anniversary celebration and featured the all-time favorite photos of 14 of Flickr's staff members.
George's photo features a female great white shark named Lucy, whom he first photographed in 2008 and has photographed in 2010, 2013, and 2016. Her injured caudal fin (tail) makes her very easy to recognize, and she has been featured on numerous episodes of Shark Week over the years.
This is what George had to say about Lucy...
"Lucy is one of my favorite sharks to photograph. She was first identified at Isla de Guadalupe in 2003 and sustained an injury to her caudal fin (tail) sometime between 2004 and 2007 that left her with a deformed tail. Lucy has adapted to the injury with a modified swimming style and is still able to hunt effectively, based on her continued growth. She is now around 5m (over 16') in length and seems about as big around as VW Beetle when you see her up close. She's a true testament to resilience. It's an honor for one of my photos of her to be selected as part of Flickr's anniversary celebration."
You can see more of George's photos on his Flickr account.