The Equifax breach
I'm sure everyone is painfully aware of the recent data breach at Equifax. Industry experts are suggesting that this breach was a state-sponsored hack, and I believe them. Chances are everyone reading this newsletter has had their personal financial information compromised. You must take action.
Go to annualcreditreport.com and get a free copy of your credit reports from the big three and review for discrepancies. You can go to the official Equifax site and jump through their hoops just don't use other sites: Some are scams. Annualcreditreport.com is the official site.
Freezing your credit is a protective measure, my family chose. You can contact each credit reporting agency individually, or in our case, pay Experian to freeze accounts at all three agencies. Not sure if Experian is still offering this option, but it saved some hassle!
Freezing your credit can be done online or you can call each of the three reporting agencies: TransUnion: 1-888-909-8872; Equifax: 1-800-349-9960; Experian: 1-888-397-3742.
Freezing your credit takes about 30-45 minutes per identity.
There are some additional costs and time associated with unfreezing your credit when you apply for a new credit card or home/auto loan. Additionally, applying for a rental agreement, new utility service or even cell phone agreements may be impacted. When you unfreeze your credit, it can only be unfrozen with your PIN. Don't lose it!
Freezing and unfreezing your credit may be easier than cleaning up after having an identity stolen.
Instituting a fraud alert is another option, but in my opinion, the credit freeze is adequate.
I suspect each of the credit reporting firms is doing a top-down security risk assessment, so hopefully a recurrence is unlikely.
More info is available at Federal Trade Commission's Equifax Data Breach page.
---
New River Computing's ribbon cutting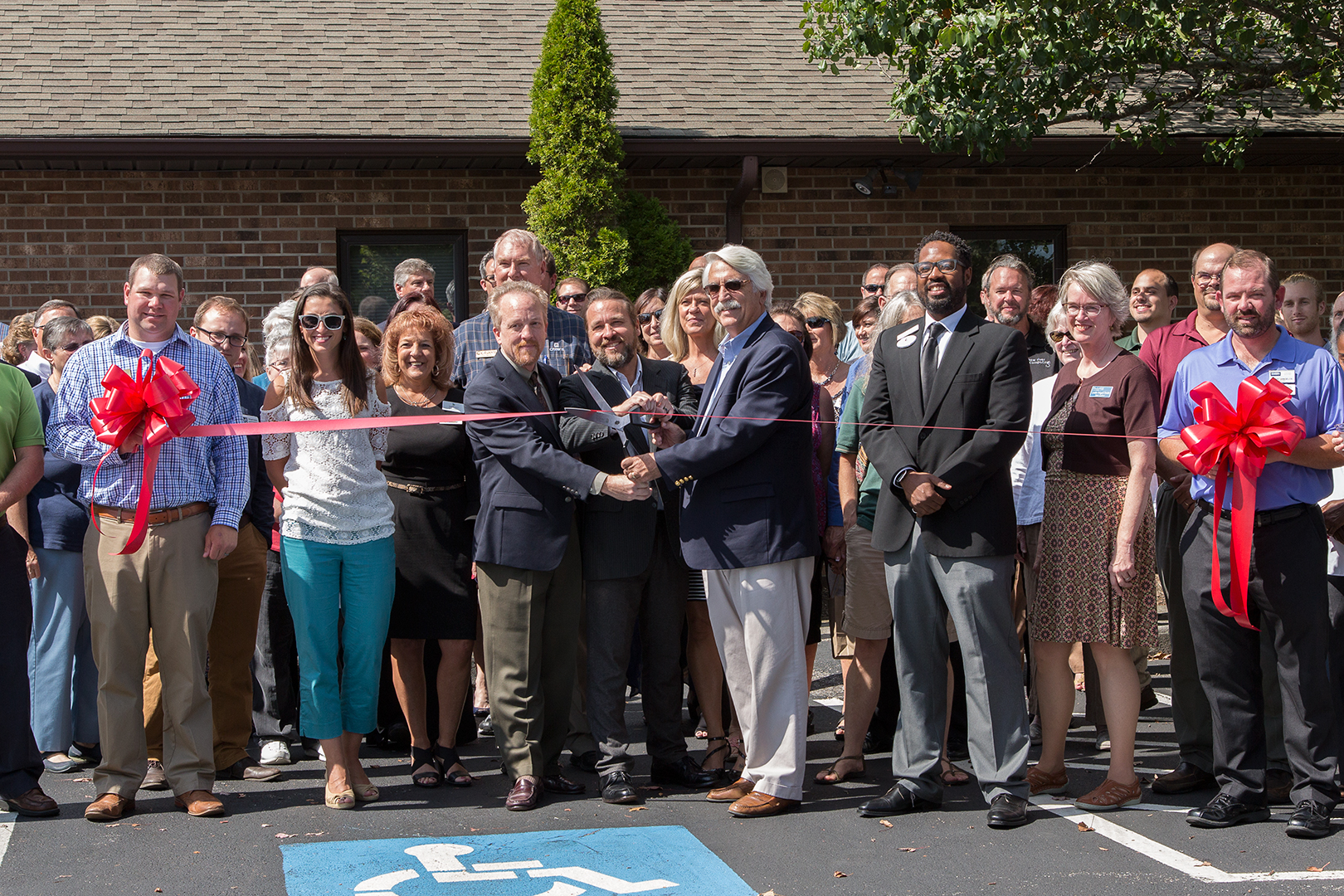 New River Computing and our neighbor, Green Eyed Designs had a Montgomery County Chamber of Commerce-sponsored ribbon cutting last week. The weather was fall-perfect and accordingly was very well-attended: we counted about 100 visitors. Blacksburg's Mayor, Ron Rordam and Vice-Mayor, Leslie Hager-Smith also attended. Our congratulations to Becky Stanley from First Community Bank, who won our door prize of a Chromecast. All of us at New River Computing thank everyone who attended as well as the Montgomery County Chamber of Commerce for sponsoring the event.
---
Skype for Business is moving to Teams
In September, Microsoft announced that Skype for Business will be merged with Microsoft Teams, with Skype for Business going away at some point in the future. Teams is Microsoft's answer to the very popular Slack—a collaborative environment meant to move communications out of the inbox and into a more searchable platform. Here's the problem: So many business decisions are discussed and documented via email. Such an approach is not scalable: New or different employees don't have access to these legacy emails and can't find information relevant to their jobs. That's probably the main driver for software like Teams, Slack, Cliq and so on. They are all searchable to find important information for you to get your job done!
The main advantage Teams have over Slack is that email, document management and so forth is built right in. You can add SharePoint Sites, documents, and other Office 365 features right in to your Teams or Channels. Some of us at New River Computing have been playing with Teams, and we really like it. Teams might just be one of those super-apps that really changes the collaboration game. Because so many people are already using Skype for Business for communications and meetings, when the integration takes place, people will discover and use Teams features organically. We haven't seen a timeline for integration, but integration is coming. Stay tuned!
Learn teams in 5 minutes:
From CBT Nuggets:
If you have the stomach for it, here is the hour-long presentation from Microsoft Ignite in September:
---
Microsoft's FindTime is now Poll for a Time to Meet
So, Microsoft sometimes takes a step backward with Office 365. Such a back-step happened last month when Microsoft decided to no longer offer the FindTime Outlook add-in. The feature is still available via Outlook Web Access (or "Mail" as it appears in the browser). It is now called "Poll for a Time to Meet."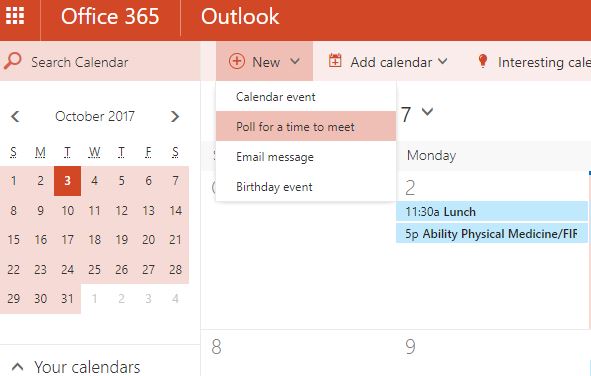 Here's what Microsoft has to say about it:
https://findtime.uservoice.com/knowledgebase/articles/1811761
Unfortunately, Poll for a Time to Meet lacks some of the previous functionality, such as a console to see who has voted. Additionally, when all attendees have voted, the meeting is hard-scheduled, and you can't cancel voting. I am hoping that these missing features will be re-added in the future as well as included in Outlook in a future update or new add-in.
---
George's photography in Wildlife Australia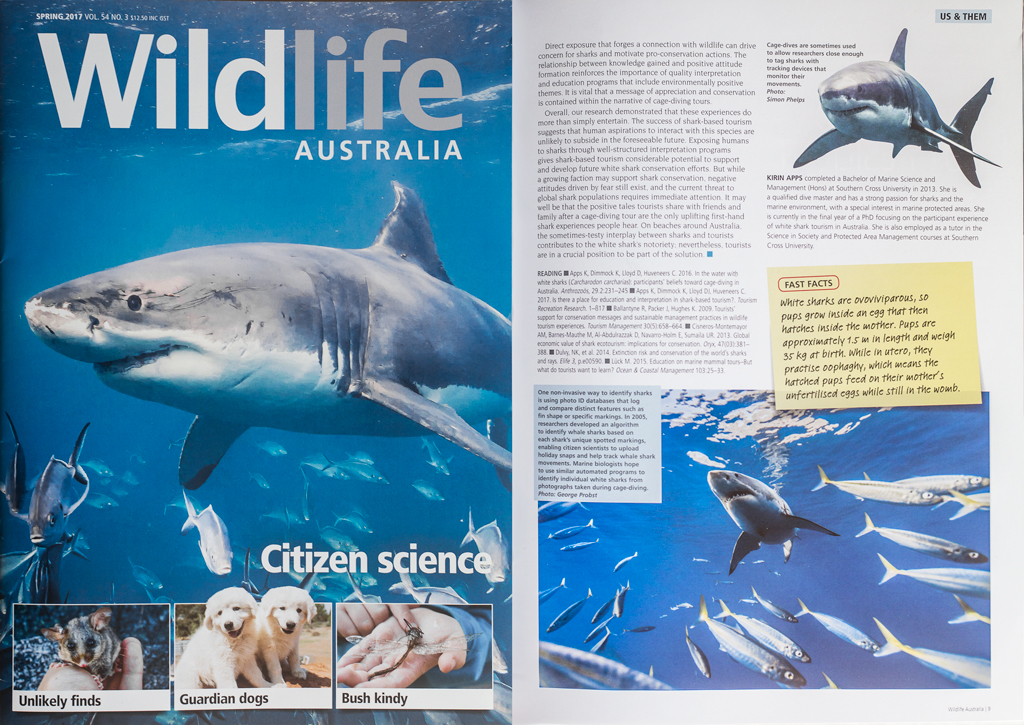 A photo shot by NRC's visual media specialist, George Probst, was published in the latest issue of Wildlife Australia, as part of their feature on great white shark diving. In addition to appearing in the Australian wildlife conservation magazine, the same photo had been on display in the Ocean Hall of the Smithsonian National Museum of Natural History in 2015, and was a winner of the NOAA 2015 World Ocean Day Photo Contest in the Ocean Life category.
The photo, which features a great white shark clearing a path through a school of mackerel scad, is one of George's more popular shots. As of September 2017, it has been viewed over 2 million times on George's Flickr account.
George will be heading out to Isla de Guadalupe for two weeks this month with hopes of capturing more imagery of great white sharks.
---