Published February 17, 2013
New River Computing was recently featured in The Burgs section of The Roanoke Times. NRC's Jeff Wynn and Hansen Ball were interviewed by Roanoke Times reporter Travis Williams to get some background about New River Computing's past, present, and future. The Q&A covers the beginnings of NRC, the company's commitment to serving the community, and the keys to the business' success. Wynn and Ball also discuss what they enjoy most about NRC and operating a business in the New River Valley of Virginia.You can check out the full article at The Roanoke Times online.
Q: How did you get into this business?
A: Wynn: After I got my master's degree, I took a system administrator job in Harper's Ferry, W.Va., for the Appalachian Trail Conservancy. I have a master's in environmental engineering and was going to do that for a few years nonprofit. I did that for five years and just fell into doing odd consulting gigs on the side and came up here to Tech … and worked at Tech for a few years and started doing consulting gigs on the side. In '99, Gay and Neel in Christiansburg was my first business client. After I left that Appalachian Trail Conservancy job, they hired Hansen [Ball]. So he moved up there and worked there for five years as their system administrator. In the meantime, I was down here doing these consulting gigs with Gay and Neel and then with Lester and Gillespie. So I quit my day job and started doing it full time. I became an L.L.C., and started doing things the right way. In May 2006, Hansen joined us, … and we've grown organically since then — up to its current nine employees.
Q: What is the key to your success?
A: Hansen Ball (company's chief operating officer): I think it's really building long-lasting relationships with our clients. We get to know our clients, and they get to know us, and we get to work together for the long term, both to understand their business and to relate to them on a personal level, so that we're a little bit more than just hired guns, but at the same time trying to maintain a level of trust that they've given to us and keep that going.
A: Wynn: It started out, of course, as 'if there's a problem, give us a call,' and that sort of morphed into this ongoing playing the role of a fully fledged IT department for smaller businesses. We'd like to think that we're the guys that if you pick up the phone, you can get ahold of us. Whereas, a lot of times you think with an IT guy, you call and you leave a message and they'll get back to you.
Q: What do you enjoy most about this business?
A: Ball: I enjoy getting out to different clients. We have engineering firms and accounting firms, lawyers, dentists; a bunch of nonprofits that we serve at reduced rates. It's fun to go out and see what everybody is doing because everyone has some pretty neat stuff going on. It's interesting to see what people are doing and then to be able to come in and help with the particular problems that they're having or to improve some of the processes they're using so they can be more productive.
A: Wynn: My favorite thing, without a doubt, is bringing on a new client that hasn't been served well because we can really … get them from being in a really frustrating situation, … and then in pretty short order, we can turn them around … and at least let them function well.
Q: In what ways does your company give back to the community?
A: Ball: We serve nonprofit organizations at what we tried to calculate being our cost as opposed to making a profit off of them, and in some cases, we donate some services to particular nonprofits.
A: Wynn: We probably are active on 1,000 computers. Of those, I'd say a good 200 or so are nonprofits.
Q: What do you like best about having a business in the New River Valley?
A: Wynn: This is a great place to live, raise kids. There's not a lot of churn in our community. We talk to people who run businesses in places like Atlanta and whatnot, and it's sort of cutthroat, whereas here we really get to know our fellow business owners and employees.
A: Ball: What brought me back was leaving Northern Virginia and the 45 minute to an hour commute in order to come back here and have a five-minute commute and be in a much more pleasant place to live to begin with.
Published November 02, 2012
New River Computing recently launched a new website for the new Blacksburg law firm, Brinckman and Brinckman, P.C. The Brinckman law team brings over 40 years of combined legal experience to clients in the New River Valley of Virginia.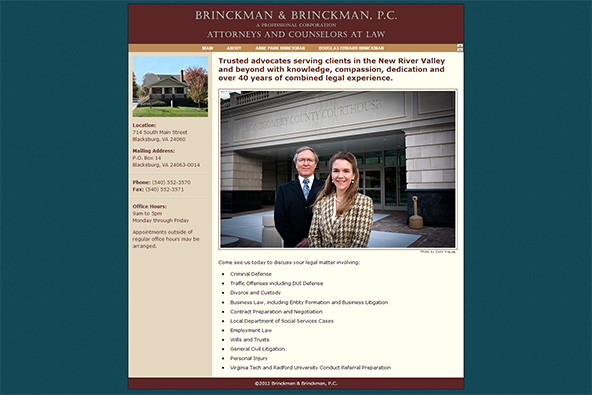 Attorney Anne Park Brinckman practice areas include divorce, custody, and adoption, criminal defense, civil litigation, and employment law.
Douglas E. Brinckman, attorney at law, practices general law with an emphasis on business law, criminal defense, traffic offenses, civil litigation, and family law. Doug also serves as an Associate Professor of Business Law at Radford University.
The father-daughter team of Doug and Anne, both Virginia Tech graduates, have called the New River Valley home for over 35 years and are active members of the local community. The Brinckmans are committed to providing the best legal service possible to their clients.